Description
• updated version of the iconic OTUL® Lite uderquilt
• recommended temperature range from 8°C to 18°C
• unmatched protection against cold, wind and light rain
• insulated with Primaloft Silver 80 g/m²
• works with any hammock

---
What's new in the updated OTUL® Lite underquilt?
OTUL® underquilts are the apples of our eyes and the essential element of the comofrtable hammock sleep system, therefore we're constantly updating it's performanc and design. In the latest update we offer you:
→ Primaloft Silver insulation, which makes OTUL® even more eco-friendly. How? We explain that in the description below;
→ upgraded quilting process & pattern, without sewn-through construction, eliminating structural cold spots;
→ 80 g/m² insulation layer, making it 20% thicker, which is simply warmer;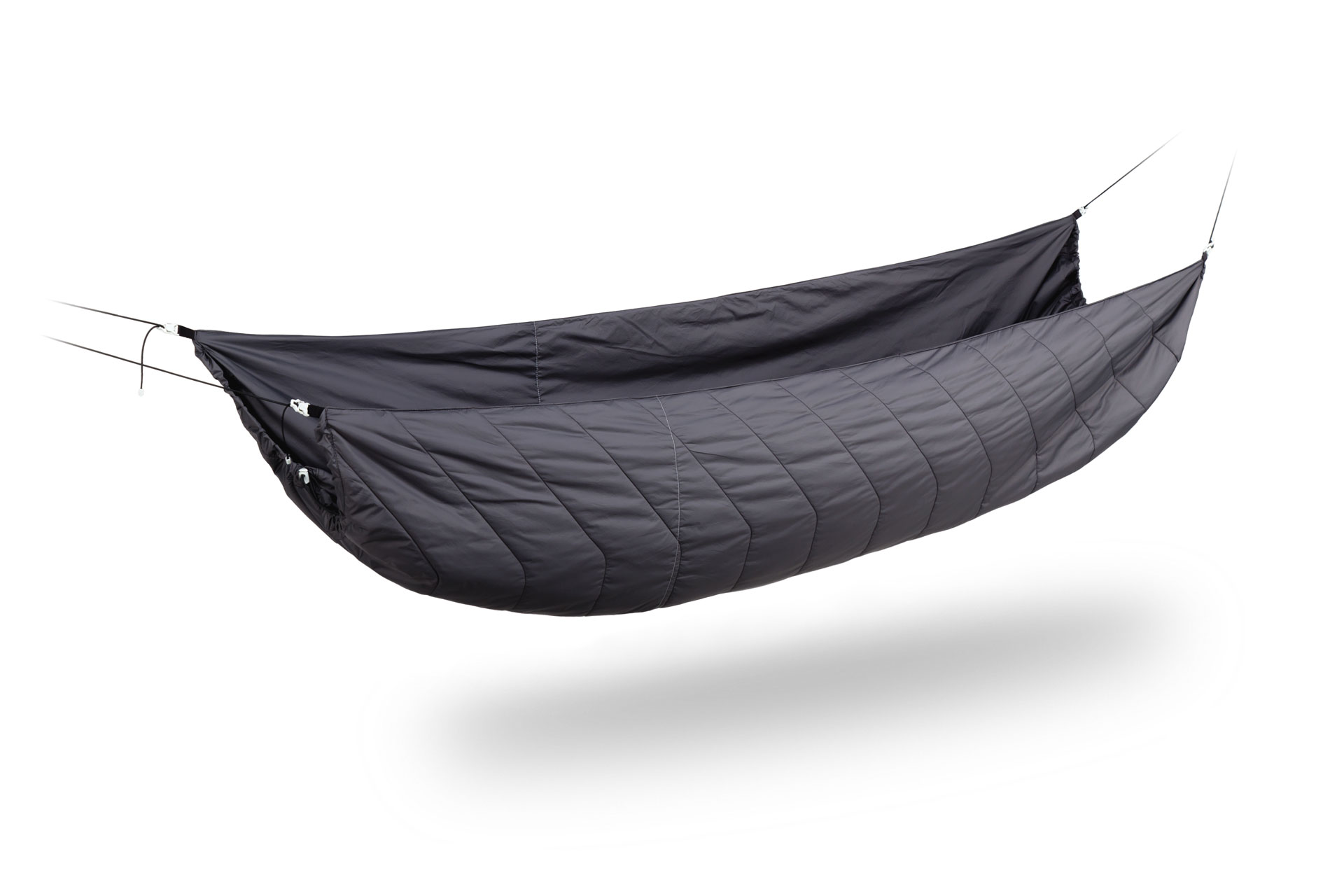 How not to get cold in a hammock, and why the underquilt is essential?
If you choose to sleep in a hammock uing only a sleeping bag – you'll get cold. No matter which sleep system you choose (hammock, tent, bivi, ground tarp or a mountain shelter) you need to insulate your back.
As you lay down, the insulating layer of your sleeping bag gets compressed between your body and the ground, which makes the insulation ineffective (high loft is vital). To protect your back, hips and legs against colling down, you need a sleeping pad or a hammock underquilt.
Would it be possible to sleep in a hammock without any insulation? To our experience – yes, but that's only possible if the night is warm, preferably over 18°C. Depending on where you live, such nights occure from almost never to multiple times a season.
Hammock insulation layer – why the underquilt is more effective than a sleeping pad?
Using a sleeping pad in a hammock is proven to be OK, however it will never be as comfortable as the underquilt.
First of all: the pad is insulating you only from the bottom, while the underquilt keeps you warm also on the sides, around the shoulders and feet.
Second of all: most sleeping pads are not suited to work well with the hammock. Depending on their shape and air chambers design, they might shift, move or even pop up from underneath you completely. You might be forced to readjust your pad constantly, and we all know how disappointing it is to spend the night sleepless, working around your gear.

Will I feel warmth? Is OTUL® Lite really that effective?
OTUL® Lite is a result of 10 years of our experience in hammock camping. We used the most efficient materials and designed the underquilt to mimic the feeling of being placed in your grandma's featherbed gently (minus the allergy for down, because Primaloft is synthetic!). We recommed to use OTUL® Lite everytime when you camp between 8°C to 18°C.
OTUL® Lite is effective, because:
→ it's made with a lightweight, quick-drying, DWR finished ripstop nylon (it's the same fabric that Polish Special Forces have in their sleeping bags, which is a bonus for the durability)
→ industry's most acknowledged insulation – Primaloft Silver 80 g/m². It's lightweight, elastic, durable, and hydrophobic which means it doesn't soak up water!
→ thoughtful trapeze-shaped quilting – it keeps the insulation layer in one place, extending the lifespan of the product;
→ no quilting through the internal material – this way OTUL® provides more effective thermal insulation without any structural coldspots;
→ suspension system with the UNGAPER®
What are the benefits of Primaloft Silver in OTUL® Lite?
Our goal is to make Lesovik products eco- and usr-friendly as much as possible. We haven't hesitated a second to choose Primaloft, because:
→ Primaloft Silver made with recycled material, not a virgin one as some of the alternatives ;
→ it's made in Europe, which means the transportation & logistics carbon footprint is much smaller (compared to USA or China imported materials – please remember we manufacture everything in Poland);
→ it's produced to our exact demand and shipped immediately afterwards, which means the insulation spends less time compressed for transportation and storage – you have it freshly made;
What is the UNGAPER?
OTUL® Lite has it's universal suspension system, which is topped with the UNGAPER – a clever solution for lifting the underquilt up for about 10 cm. A unique side release buckle connects the elastic cords over the hammock, making OTUL® Lite fits your body entirely, stabilizing it and closing all the gaps between the underquilts and the hammock. The suspension is fully elastic and adjustable at the same time.
Multipurposed.
OTUL® Lite is not only a hammock underquilt– the detachable suspension system with a quick release option allows you to change it into a blanket. This way you can replace your sleeping bag or simply use OTUL® Lite as a camping quilt during preparation for the night, meal breaks and other stationary activities. Waiting for morning coffee or admiring the sunset in the mountains will no longer be associated with a biting frost!
How to manage your thermal comfort in a hammock – other essential tips.
Thermal comfort is a complicated matter, it depends on numerous factors: your sleeping bag, layering system, sex, humidity, wind, nutrition, mental condition (take care of yourselves!) and physical fatigue (the more you're tired, the colder you might feel). Please consider all the elements in advance when preparing for camping in a colder environment and rememeber: it's better to carry a little bit more (of equipment), than feeling cold too much.
OTUL® Lite comes with a stuff sack and an illustrated, color-blind friendly manual.
You can also download it here.
---
Why is it worth buying directly from LESOVIK.EU??
All products purchased directly from our webshop are covered with an extended aftercare & crash replacement. During a 3 years period from the date of purchase, we'll replace all damaged or lost items free of charge such as straps, carbiners, suspension elements, guylines or stuffsacks. We'll also repair minor damages free of charge.
Contact us for a detailed info and conditions.
Buy